Home&nbsp
Friends cars&nbsp
Vee Wrx&nbsp
Links&nbsp
New!
Welcome To My Friends Cars Page
Below will be a list of the my friends cars, and a web page for each of them.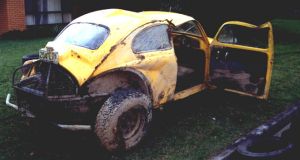 Steve's 6*(?) Baja. (new!) It was just dodgy. Then it was rolled. Now it's rebuild, but still dodgy.
CT's show/race oval. (new!)I met CT through an aussie vee dub forum, and he sent me pics and vids of his cool oval.